About Primary Innovation
Successful Innovation for Impact in the Primary Sector
Co-innovation is a way for research and the primary industries in New Zealand to work together to accelerate the pace of innovation and deliver more profitable growing and farming practices. Primary Innovation encourages and shares ideas to foster co-learning and co-innovation that will ultimately bring greater economic benefit and a more sustainable future for New Zealand.
What is Co-innovation?
Co-innovation is a systemic approach to facilitating practice change, and more broadly innovation, when addressing complex challenges both on- and off-farm. Taking a systemic approach means considering as a whole, the wider system in which a problem is situated. The interactions among the parts of the system then become as important as the individual parts.
In order for co-innovation to work the following elements have to be taken into account.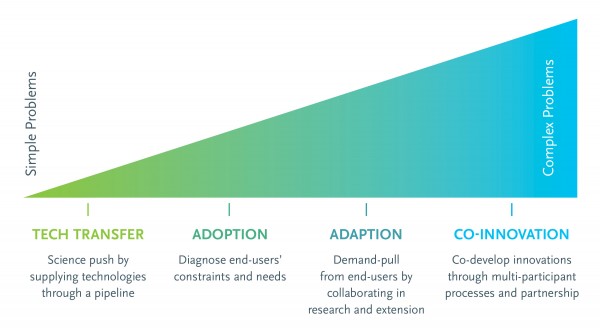 The Challenge
Technology transfer in the New Zealand primary industries is substantially under-delivering the potential impacts of new technologies and practices.
Economic cost of poor technology adoption in New Zealand:
Dairy sector - $2.5 billion pa
Sheep meat sector – 0.5 billion pa
Economic and environmental costs will grow as the primary industries increasingly face complex problems involving multiple stakeholders with competing interests.
This issue is not just about technology transfer, it is a more fundamental and wider look at how we innovate in the primary sector. Resourcing ongoing testing and development of technologies and practices is critical.
The Project
The Ministry of Business, Innovation and Employment and DairyNZ have funded a five-year project which aims to bring about that change, with the overall goal of gaining greater economic benefit and a more sustainable future from the performance of New Zealand's primary industries, including science.
The Primary Innovation project takes an innovation systems approach to deliver this impact. A unique trans-disciplinary team from three sectors – forestry, horticulture and pastoral – and across eleven industry organisations, Crown Research Institutes and universities, including Wageningen University and Melbourne University, has been formed. Together with a Community of Practice, consisting of 44 industry and government participants, they form an innovation network that will test and evaluate co-innovation in action.
Project Facts
Started 1 October 2012
34 researchers from 11 organisations
44 participants on the Community of Practice from 28 organisations contributing $990,000 direct in-kind over five years
Project funding
MBIE - $7.5 million over five years
DairyNZ - $750,000 over five years
AgResearch Core Funding (Vision Mātauranga) - $250,000