Success Principles
Research into successfully delivered science* has shown that a number of key 'success principles' are a strong indicator of impact. The diagram below illustrates these.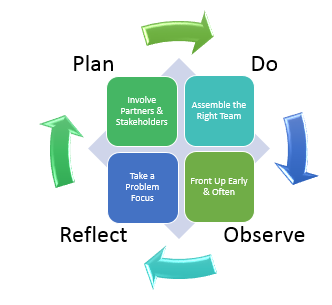 *See Turner, J. A., Klerkx, L., White, T., Payne, T., Everett‐Hincks, J., Mackay, A., & Botha, N. (2015). 'Unpacking systemic capacity to innovate: How projects coordinate capabilities across agricultural innovation system levels' INRA ImpAR Conference, 3-4 November, Paris.
The principles are also outlined and explained in the brief video below.
Our Co-Innovation Guide shows how the success principles, outlined below, can be built in to research projects.
INVOLVE PARTNERS & STAKEHOLDERS

Agricultural research is addressing increasingly complex problems the solutions to which require changes in farm systems and off-farm systems, in addition to technological changes. Read more.

In addition to technical skills for quality science and good project management, additional skills are desirable in research projects. Read more.

Taking a problem focus begins with identifying the issues (or opportunities), then continuously checking for and prioritising new issues or opportunities during the course of research. Read more.

Fronting up involves researchers meeting with shareholders (next and end-users) to share updates and results early and regularly throughout research projects. Read more.

Action learning involves an on-going cycle of "plan-do-observe-reflect-plan" in projects. Observing involves monitoring project actions and progress toward solving the problem. Read more.